Last updated
How to Use CBD Tincture? Tips, Benefits & Dosage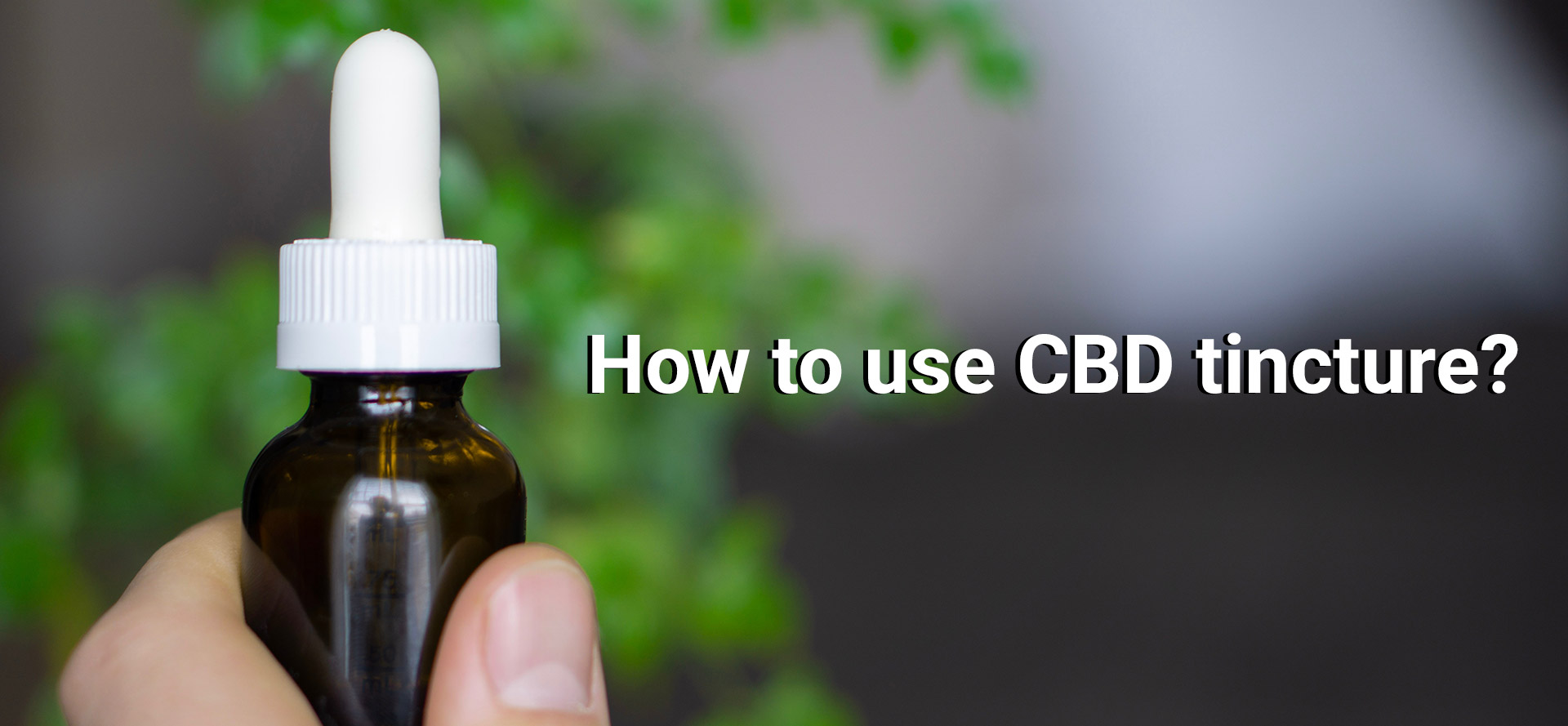 In today's times, technology is advancing at such a rapid rate, many of us are using gadgets we would have never dreamed about as a child. While technology can ease our lives, it can also increase our demands, contributing to unnecessary stress levels from living a busy technology-filled lifestyle.
Plus, prolonged stress can lead to anxiety and severe illnesses, causing a lot of pain. Nowadays, stress is everywhere and a condition. Many struggles to live with.
While you, a family member, or a friend may have experienced stress, the truth is you can never predict when you're going to encounter it.
One effective coping strategy for stress and anxiety is taking CBD tincture. It's effective and practical to use because it's portable, has a long shelf life, and can be quickly absorbed.
What is CBD Tincture?
CBD tincture is a product that contains cannabis and is stored in 60-70% alcohol. Hemp extracts are contained inside the alcohol, which is stored with glycerin, cinnamon, or peppermint oil.
They can also contain essential vitamins, water, herbs, melatonin, sweeteners, essential oils, and more. Compared to its counterpart CBD oil, they have a low CBD potency, a long shelf life, and a faster absorption rate. CBD Tincture tends to come in a tinted glass bottle with a pipette where you drop it onto your mouth.
Benefits of CBD Tincture
CBD tincture can help with the following:
Insomnia
General wellbeing
Neurological disorders like epilepsy, psychosis, post-traumatic stress disorder, panic disorder, generalized anxiety disorder, and more.
Chronic pain
Inflammation
Hyperglycaemia
Muscle spasms
Artery blockage
Most of the time, CBD tinctures help reduce inflammation, which is why it's an effective treatment for many other disorders. Research has mainly been conducted on animals, and in terms of human studies, there's still a lot to be done regarding CBD tinctures.
Forms of CBD Tincture
If you're looking to purchase CBD tincture, you might be overwhelmed as there's more than one type. There is a full spectrum that has CBD and THC. Moreover, there's Broad-spectrum which contains no THC and CBD isolates which have no chemicals.
It's commonly thought that full spectrum is the most effective due to it containing all parts of the plant. However, what you find beneficial might be different from others. It's always best to speak to a specialized physician first and read their reviews before trying.
CBD Tincture Dosage
When you buy a CBD tincture, it will come with a dropper that has its measurement marked on it. Most of the time, the measurements on the dropper range between 0.05-1 milliliter.
Regarding dosage, the amount you can take can vary based on how strong the CBD tincture is. Most of the time, experts recommend taking 2.5-5 milligrams, but the dosage can vary based on why you take it. To know the proper dosage, always consult a medical expert or doctor first before using.
How to take CBD Tincture
If you're planning on taking a CBD tincture, then you can only do so sublingually. This means you should drop the tincture onto your tongue, as per the dosage instructions. But before you do so, you should shake the bottle first and then measure out your dosage.
Ideally, it would help if you let the tincture stay on your tongue for 90 seconds up to 2 minutes to have an effect. On the contrary, if you immediately swallow the tincture, it will take longer to have an effect, as it must pass through your digestive system.
When you let it stay on your tongue, it allows the blood vessels in your mouth to absorb it. You should feel the effects as little as 15 minutes up to 1 hour afterward when doing this. Once it's absorbed, you can swallow the remaining CBD tincture.
After you've done this, you should wait for 60-90 minutes to fully feel the effects of the CBD tincture dosage. If you feel you need more, then repeat the above and wait again. One of the best ways to maximize the absorption of a CBD tincture is to consume it alongside a high-fat meal or snack. The reason for this is, CBD is fat-soluble and drastically increases fat absorption.
Side Effects
If you take CBD oil tincture, you could be at risk of experiencing the following side effects:
Dry mouth

An extremely common side effect of CBD tincture is dry mouth. However, if you're using CBD tincture to cope with a serious condition, often a bit of dry mouth is nothing compared to the pain it alleviates. Depending on the flavor, they also might leave a herbal taste in your mouth for some time after taking them.

Vascudol relaxant

CBD tincture dosage, if taken in a large amount, can lower your blood pressure. Lower blood pressure is usually not noticed in many people, but it can affect some. If you already suffer from low blood pressure, you should be careful taking this. Similarly, if you're taking prescription medications designed to lower your blood pressure, you should always consult your doctor first.

Hepatic metabolism

Sometimes CBD tinctures can interact with your liver and stop it from processing certain medications. This could have serious consequences if you're taking certain medication, meaning it may not be absorbed.
If you take CBD tincture and experience any of the above side effects apart from dry mouth, consult your doctor's advice immediately.
Drug Interactions
If you're taking prescription medications, you might want to speak to a doctor first to avoid any potential interactions. Don't take CBD tinctures, and always speak to a doctor first if you're taking:
Medications that can make you drowsy, such as benzodiazepines, antipsychotics.
Macrolide antibiotics
Heart medications
Antidepressants
If you're pregnant or breastfeeding, you should not take CBD tincture as it could harm your child. There have been animal studies that had shown defects to male fetuses when CBD tincture was taken. Moreover, CBD oil tincture can also contain additional substances which could be harmful to a young child when breastfeeding.
Conclusion
CBD tinctures are a sublingual form of CBD which are applied by dropping into your mouth. They come in three main forms such as full-spectrum, broad-spectrum, and isolate. They help ease neurological problems, pain, inflammation, and a wide range of medical conditions.
Before buying, always look at the certification, potency, manufacturing date, and any contaminants they may have. Similarly, consult your doctor first before taking certain medications such as antidepressants, antibiotics, heart medications, or anything else. You should not take it if you're breastfeeding or pregnant.
We hope this article was helpful to you. Do not pass our best CBD tincture reviews. Here you will find everything that fits your budget and taste.
FAQ
What is CBD tincture?
CBD tinctures contain CBD, which is soaked in ethanol for some time. After this, they are diluted or suspended into alcohol or glycerin based solutions.
How to take CBD tincture?
For CBD tinctures to be absorbed quickly and easily, it's best to take them sublingually or drop them under the tongue. Make sure to shake the bottle before using it and measure out the dose at first. You should leave the CBD tincture on your tongue for 15 seconds-2 minutes.
What does CBD tincture do?
CBD tinctures are absorbed by the blood vessels and are transported into the bloodstream, allowing you to feel more relaxed, reduce inflammation and pain in your body.
Where to buy CBD tincture?
If you're looking to buy CBD tincture, you can buy it from pharmacies, health shops, or online. Wherever you're buying it from, take your time to read customer reviews and the manufacturer's details before making your mind up.
Tags: best rated cbd oil, best cbd sparkling water, cbd oil for kids with adhd, cbd oil in coffee, best cbd for dog anxiety, cbd for hemorrhoids, cbd tinted lip balm, delta 8 products, pure cbd seeds, cbd massage oil