CBD Balms
CBD comes in various forms and formulas, but not every hemp item is made in the same manner. From oils, tinctures to capsules, edibles and balms, the manufacturers are trying to introduce new products to make cannabis more accessible to users.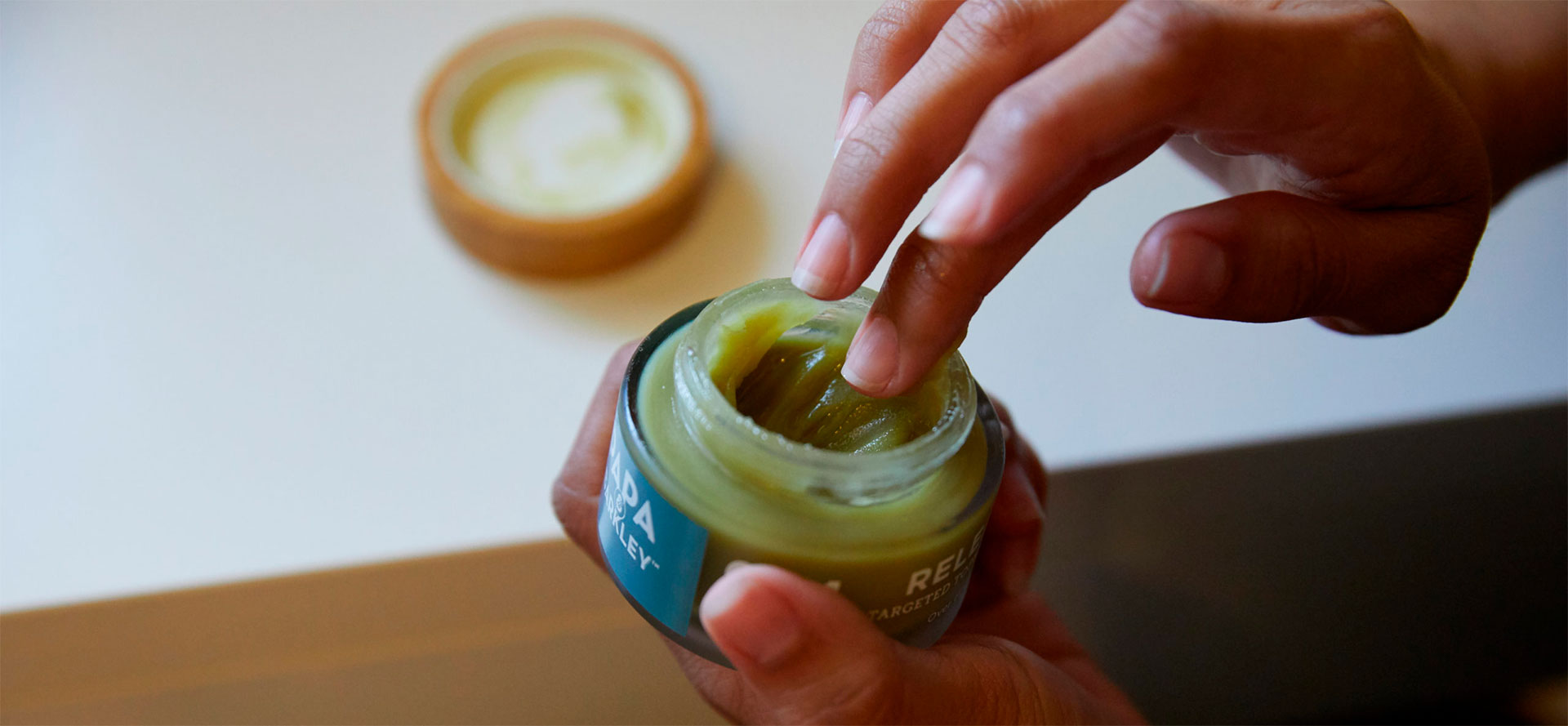 CBD balms are by far the most diverse range of cannabidiol products, offering fast and instant relief to pain and discomfort. If you're not comfortable ingesting cannabis orally, you can opt for balms for quick help. This ultimate guide will assist you in knowing about CBD balm and what it can do.
10 Best CBD Balms in 2023
Products
Information
Price

Key Facts:

With 25mg Of CBD Isolate

Check Price

Ingredients:

Grapeseed Oil, Yellow Beeswax, Peppermint Oil, Organic Coconut Oil, Sweet Basil Leaf Oil, Black Pepper Oil, Roman Chamomile Flower Oil, German Chamomile Flower Oil, Cinnamon Leaf Oil, Citronella Oil, Eucalyptus Leaf Oil, Helichrysum Flower Oil, Ginger Root Oil, Pink Grapefruit Peel Oil, Juniper Berry Oil, Lemongrass Oil, Pine Needle Oil, Ravensara Oil, Rosemary Leaf Oil, Spearmint Oil, Wild Oregano Oil, Organic Cypress Oil, Fennel Oil, Lemon Peel Oil, Lavender flower Oil, Full Spectrum Hemp Extract.

Check Price

Ingredients:

Sweet Almond Oil, Beeswax, Candelilla / Jojoba / Rice Bran Polyglyceryl-3 Esters,

Hemp Extract (Aerial Parts), Peppermint Oil, Tocopherol, Willow Bark, :

Glyceryl Stearate, Cetearyl Alcohol, Sodium Stearoyl Lactyate, Ascorbyl Palmaitate. :

Green Tea Extract, Horsetail Extract, Safflower Oil.:

Check Price

Ingredients:

Coconut Oil, Sunflower Oil, Beeswax, Kokum Butter, Shea Butter, Palm Butter, Jojoba Oil,

Hemp Extract (Aerial Parts), Kaolin, Chamomile Extract, Water, Glycerin, :

Turmeric Extract, Arnica Extract, Bisabolol, Calendula Extract, Leuconostoc / Radish Root Ferment Filtrate, :

Lavender Oil, Peppermint Oil, Olive Oil, Safflower Oil, Comfrey Extract.:

Check Price

Ingredients:

Sweet Almond Oil, Beeswax, Candeliila / Jojoba / Rice Bran Polyglyceryl-3 Esters,

Glyceryl Stearate, Cetearyl Alcohol, Sodium Stearoyl Lactyate, :

Hemp Extract (Aerial Parts), Safflower Oil, Tocopherol, Willow Bark Extract, :

Green Tea Extract, Horsetail Extract, Water, Glycerin.:

Check Price
View all CBD Balm
What are CBD Balms?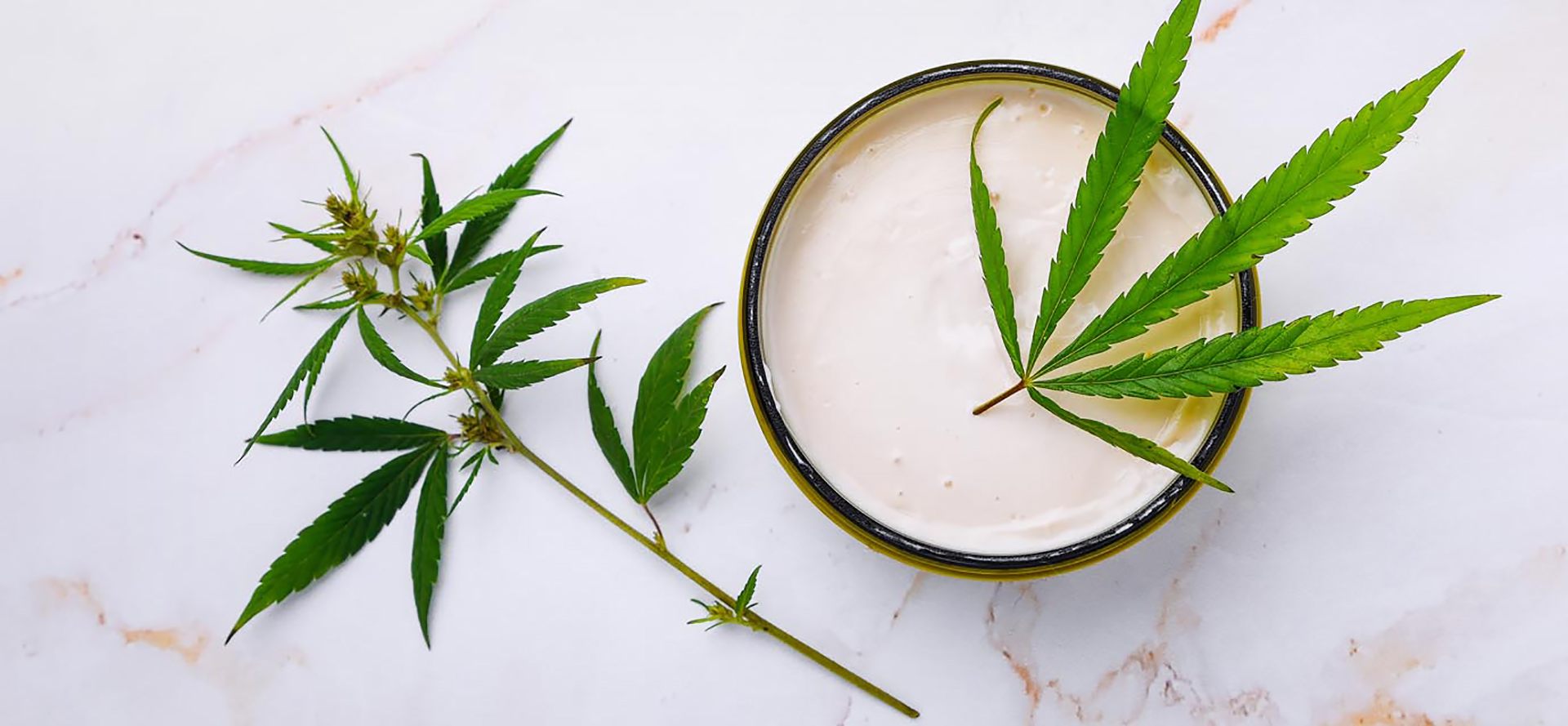 Cannabis balm is one of the most preferred items among CBD tropicals, bestowing immediate relief to your suffering. Whether it is a skin condition or chronic pain, these balms come in handy. You can directly apply it to your skin without facing any side effects.
The demand for these products is high on the rise because of their curative effects and strong, aromatic smell. Unlike gummies and oils, balms don't have to reach the bloodstream and can work like a magic when applied externally. Formulated with ginger oil, peppermint oil, menthol and turmeric, you can put this balm on the area that needs extra care.
How CBD Balms are Made of?
CBD balm for pain contains the following elements:
Fatty oil as the base;
Natural wax like beeswax;
CBD or CBD with vitamins.
Apart from these ingredients, the manufacturers add an array of botanical compounds, such as eucalyptus, arnica, passionflower, lavender, almond and more. The blend of botanical ingredients adds more healing effects along with nice essence. The scent of lavender gives a refreshing result while peppermint and menthol calm the nerves. Eucalyptus has a medicinal property and relieves ache, whereas rose loosens up the body and mind. You can read the products' reviews for more knowledge.
Best Sellers Types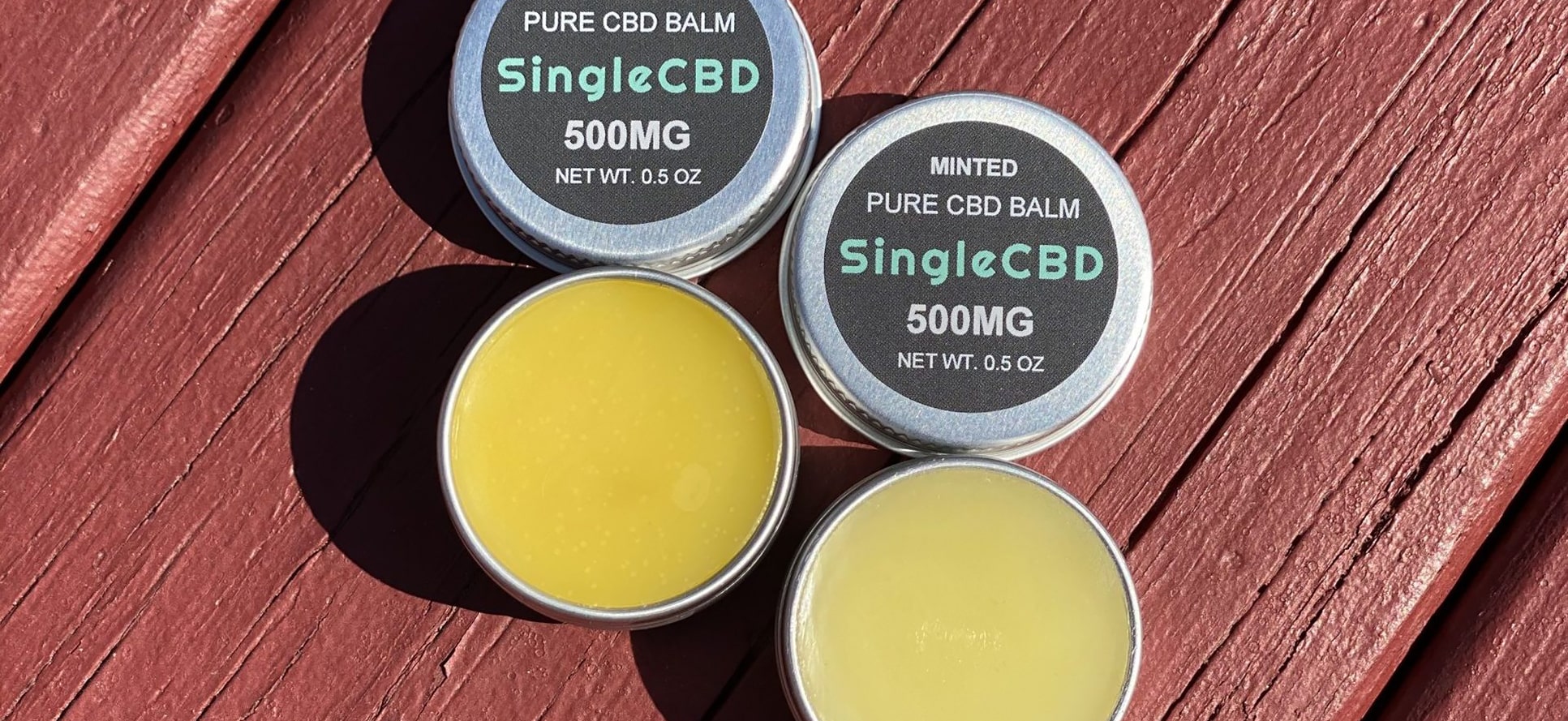 Balms for the beginners -

For first-timers, you can choose between products having low to a high concentration of CBD present in the tube. These medical marijuana balms don't irritate the skin and work on the affected area. All you need to do is apply it gently and wait for it to kick in within 30 minutes. Basil, rosemary, lemon, passionflower oil, peel oil, Sativa seed oil and more plant-based elements found in them which treats arthritis, osteoporosis and other skin disorders.

All-natural balm -

Balms that contain all-natural ingredients is one of the top-selling products. With no additives and fancy color, organic balms are considered the best CBD balm for pain. Rich in almond oil, coconut oil, beeswax, cannabis extracts and Vitamin E, the balm not only supports restorative healing but also smoothens the skin, moisturizes it and reduces blemishes and scar marks.

Muscle balm -

This is an ideal option for fitness enthusiasts and gym freaks. Packed with beeswax, lavender oil, coconut oil, broad-spectrum CBD oil and eucalyptus oil, the balm reduces pain, nourishes the skin, eases joint ache, disinfectants wounds, heals minor burns and also insect bites. Due to the presence of natural compounds, the balm has antiviral, anti-inflammatory, anti-bacterial and anti-fungal properties.

Post-workout recovery balm -

This category of balm contains full-spectrum hemp, magnesium and other cannabinoids elements, making it a superb choice to use after a workout session. Magnesium is an essential mineral, which is directly linked to the body's stress response. It boosts the healing of muscle tears and cures inflammation.

Menthol balm -

This broad-spectrum CBD muscle rub comprises menthol crystals, de-ionized water, vegetable glycerin and more. Menthol provides instant relief to cramps, aches, irritation and burns. It eases muscle, treats headache, diminishes dark spots and nurtures the skin.

Rejuvenate balm -

The product contains arnica, calendula, glycerin, tea tree oil, menthol and more, bestowing soothing and nourishing effects. The anti-inflammatory property relieves joint pain, rejuvenates muscles, thus helping you to stay active. Enriched with so many powerful botanical elements, these treat a range of conditions like, sprains, swelling, bruises, eczema, acne scars and more.
Willing to purchase one? Our top 10 product list will help you to make a wise decision.
More choices available
Do Cannabis Balms Really Work?
CBD balms are scented tropical creams that soothe sore muscles and joint pain. Generally mixed with other comforting elements and oils, these balms have proven to offer relaxing and calming effects when applied. The products contain no or less than 0.3% of THC, therefore there is no point that you will be "high" or "stoned".
Many consumers have reported positive results after the application of marijuana balm. However, the result may depend on a number of factors, such as dosages, the concentration of CBD, oils present and more.
Moreover, CBD comes in different formulas, such as full-spectrum, broad-spectrum and isolate. Full-spectrum contains all the extracts from hemp plants including, terpenes, cannabinoids and traces of THC.
On the other hand, broad-spectrum is equipped with all elements of cannabis, except the THC. Last but not least, isolate contains the pure form of hemp. Hence, these varying compounds have diverse effects on users.
Do CBD Balms Help in Muscle Recovery?
CBD oil balm works on particular parts of the body, easing the pain of joints and sore muscles. The mixture when rubbed gets absorbed by the skin and interacts with the tissues, nerves and cells.
The skin too contains cannabinoid receptors which becomes less sensitive when they come in contact with the muscle balm. Once these receptors get desensitized, you get relief from the pain for the time being.
Some products are filled with essential oils that further enhance the recovery process and heal the injury with their anti-inflammatory and analgesic properties. People often experience ache and soreness after an intense workout. Exercise tears the muscle fibers, leading to inflammation and ache.
When you opt for CBD pain relief balm, it suppresses the T-regulatory cells production, cytokine and chemokine, speeding up the healing method. Hemp also curbs the inflammatory response which is a result of a workout.
Beyond muscle recovery, some hemp balms CBD are also used to treat different skin conditions and improve appearance.
Why not find out more about this through our review section?
Benefits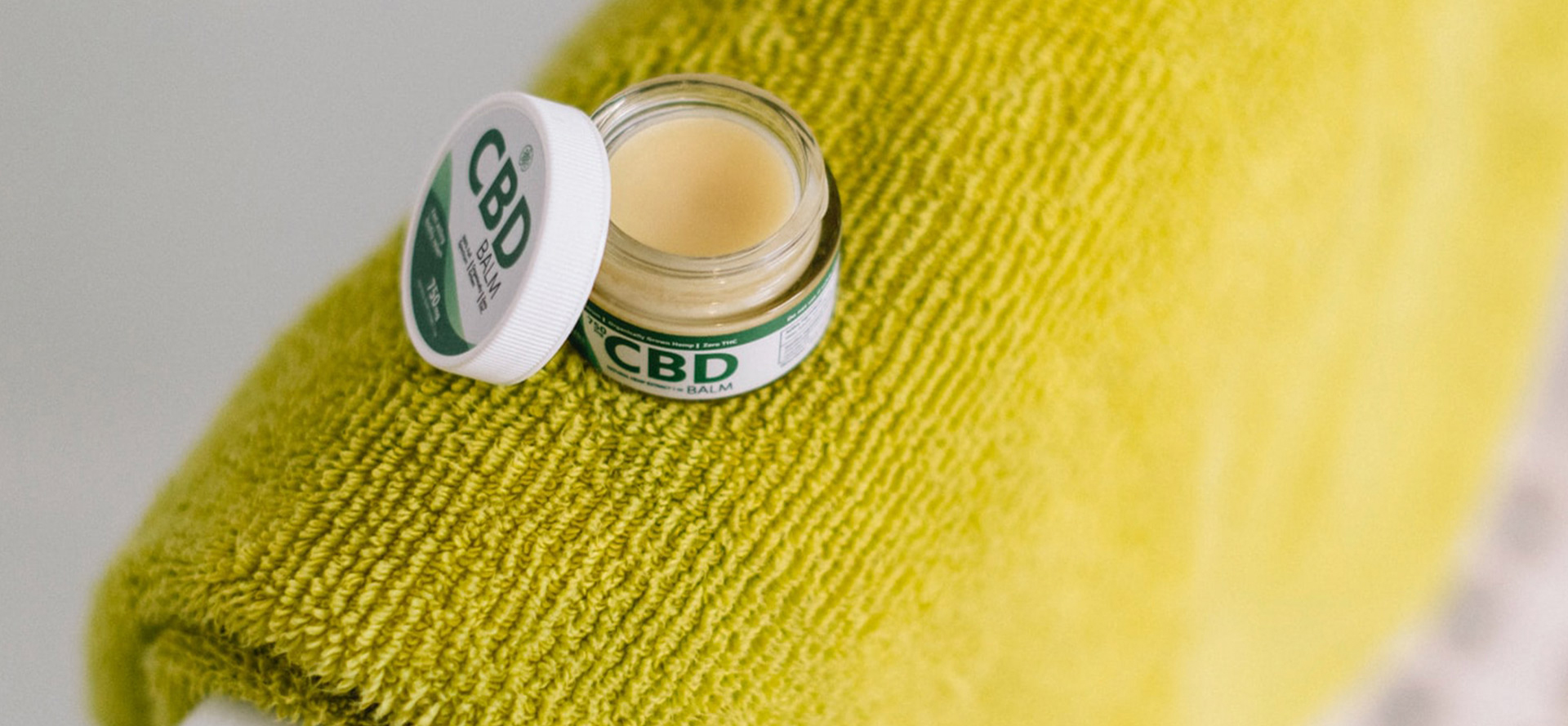 Pain treatment -

CBD oil balm for pain never mixes with your blood yet it interacts with the endocannabinoid receptors present in the skin. The ingredients localize the pain and start their action immediately.

Skin treatment -

Skin conditions like, psoriasis, acne and eczema are difficult to treat. This is where you can use CBD balm. The pain, itching, dryness and redness caused to the skin can be relieved and reduced. Cannabidiol oil regulates the production of sebum and slows down the growth of the skin cells.

Wrinkles and dry skin treatment -

CBD balms can be used on any skin type. It increases the production of oil in the dry skin, thus controlling the visibility of wrinkles and fine lines.
CBD Balms Dosage: How to Use It?
CBD balms can be used as a regular moisturizer. Gently rub it on the affected area and wait for it to react. These muscle rubs come with a variety of strengths and CBD concentrations. Practically, the doses depend on the following:
Bodyweight;
Body tolerance;
Body conditions;
Product's potency;
Extracts.
In the starting, start with the lowest dose and see how your body reacts to it. If there are no side effects, you can increase the doses and frequency. To know more, visit our review pages on our website.
Conclusion: How to Choose Best Balm?
The answer lies in why you need the balm in the first place. There are plenty of CBD balms available in the market. While some can cure rheumatoid arthritis, some are made to treat swollen muscles. The flavors, the CBD concentrations, the botanical blends all have an overall impact on your body.
To ease muscle tension, you can stick to low potency balm, but you may need higher strengths to treat excruciating joint pain. Apart from these, the following are a few aspects that you can look for before buying a balm.
Check where the hemp plants are grown and how the manufacturers have processed it to make the muscle rub.
Take a look at the ingredients present and see if you are allergic to one. For instance, almond oil does not suit everyone; hence strike off the products that contain this ingredient.
Always see if the brand is providing COA to its customers. It shows the concentration of cannabinoids and THC in the product. You will also get an idea if the products are tested for mold, metals and pesticides.
CBD balms are a highly recommended product. Though you are not ingesting it to treat your problems, you are getting similar benefits on application. Prior to purchase, check your state laws and regulations regarding marijuana application and consumption.
Choose CBD Balm now
Tags: best cbd oil on the market, best cbd isolate, cbd oil for arthritis pain, cannabis for dementia, cbd oil for autism, does cbd help with covid, cbd oil kansas, cbd oil for shingles pain, how does cbd help ptsd, cbd and hair loss