Last updated
CBD for Dogs with Anxiety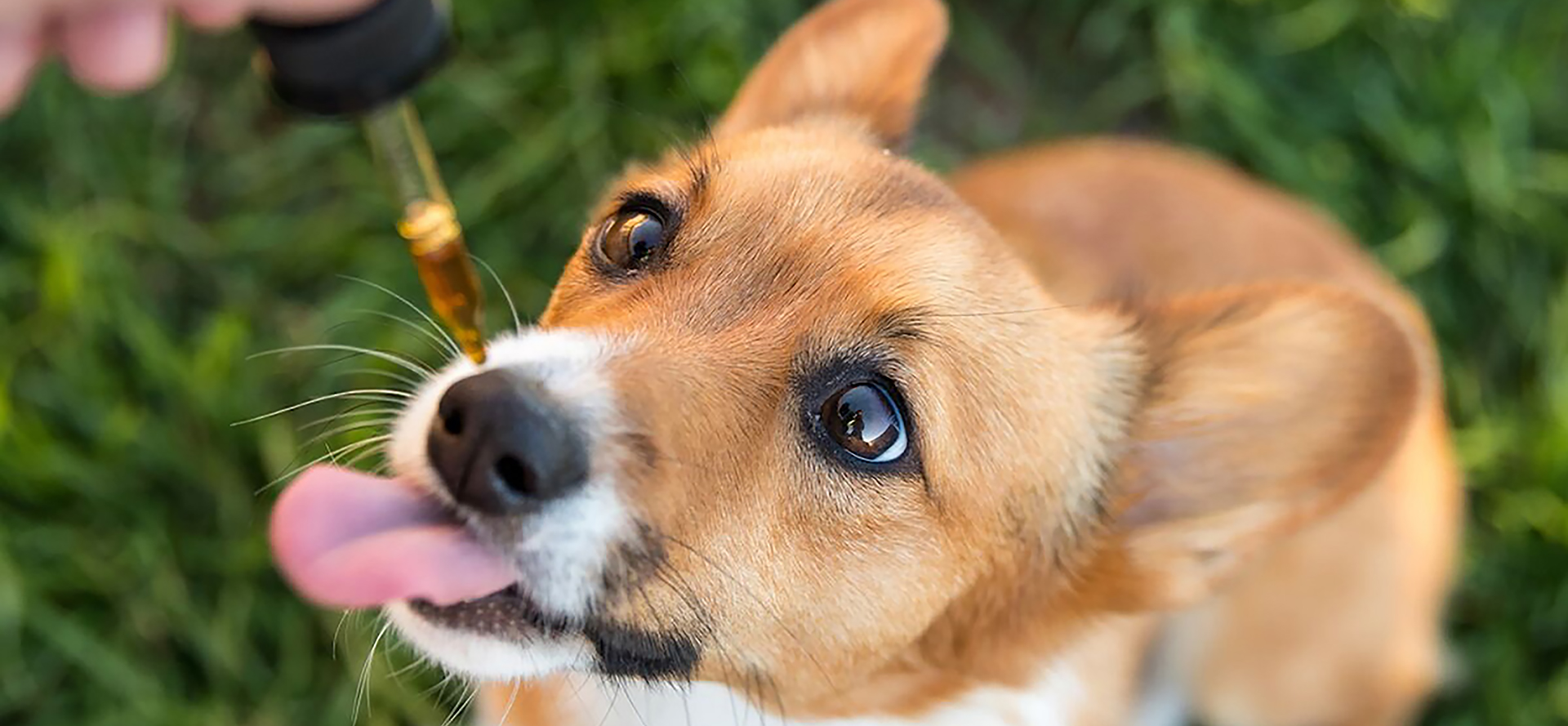 For pet-parents, there is nothing more disheartening and heart-wrenching than seeing their dog suffer. Just like us, dogs can also feel anxious when they're placed in stressful situations. Your dog might turn into an anxious mess when a thunderstorm hits or when he/she can hear fireworks. Obviously, you would want to make your dog feel as comfortable as possible without the help of prescribed medication. This is why a lot of dog owners are turning to the all-natural alternative, CBD oil and other CBD products. These products are made from the hemp plant and known to be beneficial for dogs with anxiety. If you are on the lookout for the best CBD for dogs' anxiety, you have come to the right place. Keep reading to find out everything about CBD products for your furry friend.
Best CBD for Dogs Anxiety in 2023
Products
Information
Price

Concentration:

100mg, 200mg

Ingredients:

Pharmaceutical grade cannabidiol (CBD), Wheat flour, wheat starch, glycerin (derived from vegetable oil)

Check Price

Key Facts:

With 300mg of Full Spectrum CBD

Ingredients:

Lamb, Salmon, Chickpeas, Ground Potatoes, Vegetable Glycerin, Guar Gum, Carrots, Cane Molasses, Salt, Natural Smoke Flavor, Blueberries, Garlic Powder

Check Price

Ingredients:

Industrial Hemp CBD, Vegetable Glycerin(VG), Propylene(PG) Artificial Flavor

Check Price

Ingredients:

Hemp Derived Phytocannabinoids, Organic Hemp Oil, Bacon Flavor, and Vitamin E

Concentration:

150mg, 300mg

Check Price

Ingredients:

Fractionated Coconut Oil (MCT), Whole Plant Hemp Extract, Bacon Flavoring

Bacon Flavor Ingredients:

Fractionated Coconut Oil (MCT), Whole Plant Hemp Extract, Bacon Flavoring

Check Price

Ingredients:

Organic Extra-Virgin Olive Oil and Organic Phytocannabinoid-Rich Hemp Extract

Product Life:

18-month shelf stable

Check Price

Dosage:

Add to daily food regime at a rate of 2 drops per 10lb of weight

Ingredients:

Natural Colorado CBD Oil Extract, Organic Omega-3 Anchovy Fish Oil

Check Price

Sizes:

20-count pack (5mg per treat, 100mg per bag)

Active Ingredients:

Phytocannabinoid-Rich Hemp Oil (0.0% THC)

Inactive Ingredients:

Cinnamon, Coconut oil, Garbanzo Bean Flour, MCT oil, Molasses, Oat Bran, Oat flour, Turmeric, Bacon Extract

Check Price

Flavor:

Bacon, Tuna, UnFlavored

Dosing:

2-3 drops on food or treat contains approximately 1-2mg of potent CBD

Check Price

Check Price
View all CBD for Dogs Anxiety
Symptoms of Anxiety in Dogs
CBD for dog anxiety is becoming quite popular as it a natural way for dogs to cope with their anxiety. Anxiety can affect your pet in various ways and typically there are two primary categories of anxiety:
Behavioral –

Separation anxiety falls under this category and this is quite common in pets. Only a few dogs genuinely like to be left alone. This is because dogs are social by nature and they do not like to be all alone. When left alone, they experience anxiety due to loneliness and boredom.

Situational –

This refers to dogs experiencing anxiety only during specific situations like, when they hear fireworks or if there are thunderstorms. Some dogs also like to run and hide if strangers come home.
Even though the symptoms differ, the common ones have been listed below. If you notice any of them, you might want to consider cannabis for dogs with anxiety.
Panting and pacing.
Trembling or whimpering.
Becoming aggressive without any reason.
Your dog is house trained, but still defecating or urinating on the floor.
Loss of appetite.
Nervous licking of the lips.
These are some of the signs that your furry friend might be feeling anxious. CBD products might be able to calm him or her down.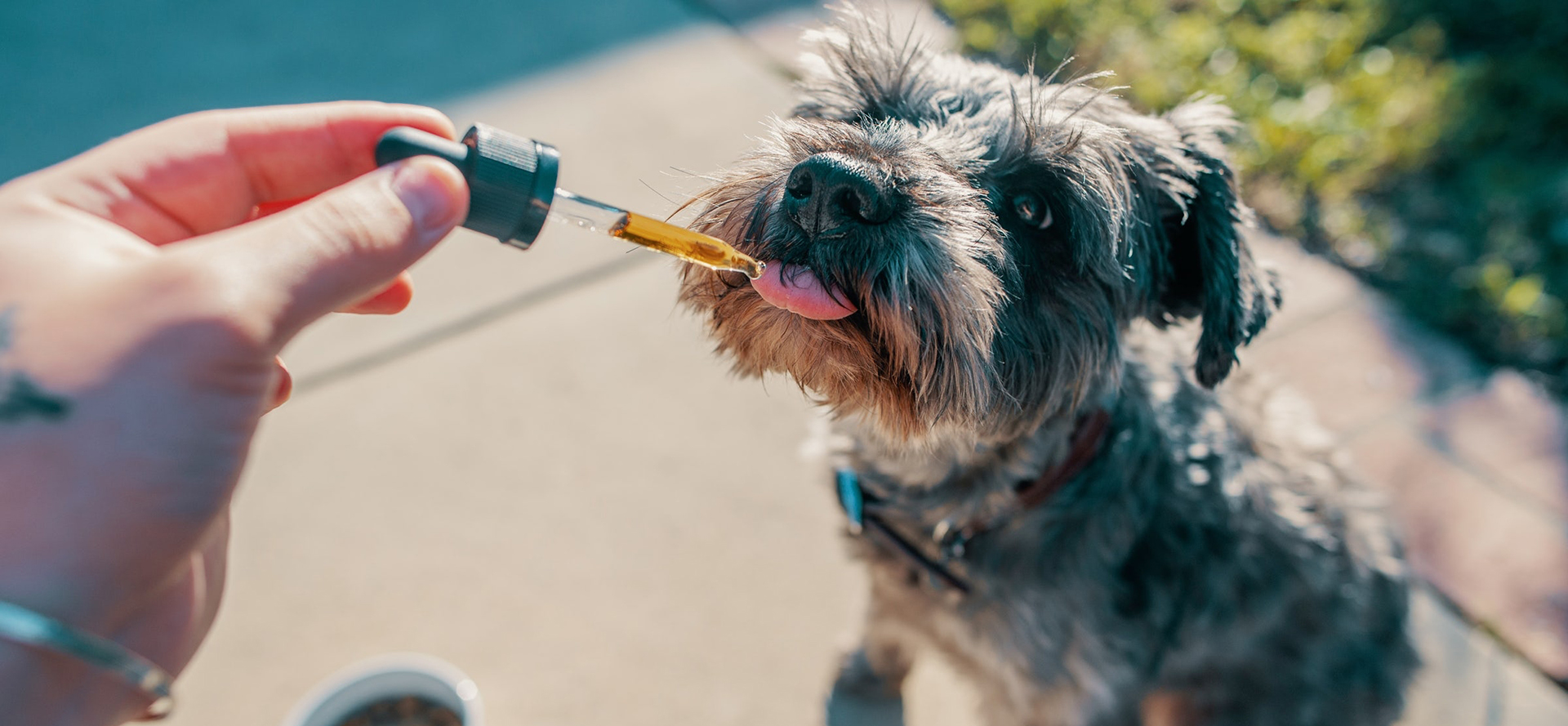 What is CBD Oil for Dogs?
CBD stands for cannabidiol, which is a chemical compound found in the cannabis plant. This plant is typically associated with marijuana, but hemp is its more well-known form. For the creation of CBD oil for dogs with anxiety, hemp is ideal as it possesses a very low concentration of THC (tetrahydrocannabinol). THC is the psychoactive ingredient present in cannabis. Since CBD oil does not contain THC, you don't have to worry about your dog getting high. Instead, your pet will feel calm and relaxed.
It is also important to note here that THC is toxic to dogs. So, make sure to read the label carefully before purchasing CBD oil for your dog. You should not give your furry friend any CBD oil products that claim to have THC. Only the THC-free CBD oil products are safe to administer to your furry friend.
How Does CBD Help Dogs With Anxiety?
The best CBD oil for dog anxiety reacts with the ECS (endocannabinoid system), which is responsible for the regulation of memory, sleep and immunity to disease. At the time of this interaction, CBD develops a therapeutic effect that is capable of treating anxiety and other ailments like, chronic pain, seizures, inflammation and even depression.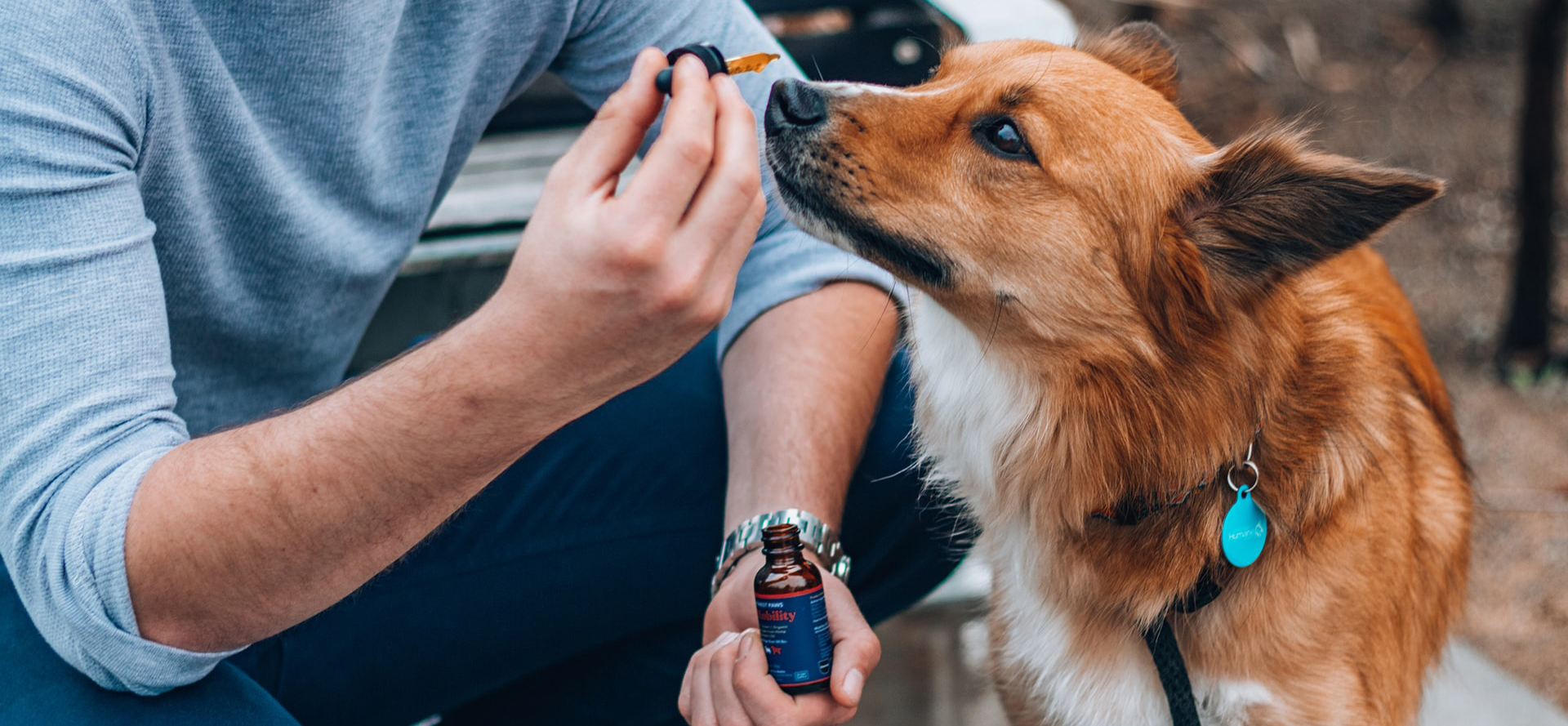 More choices available
Types of CBD Products for Your Dog with Anxiety
CBD oil for dogs' anxiety can be processed into different forms. This means that if your furry friend struggle with a particular method, you can always try another form. At present, CBD oil intended for dogs is put into one of these four forms:
CBD dog treats – Canines are accustomed to associate treats with rewards, special occasions and deliciousness. This is why CBD dog treats for anxiety is the easiest way of administering CBD oil to your dog. These treats are available in numerous sizes, shapes, dosage levels and flavors. You can be assured of finding a CBD dog treat that your canine friend loves. Take a look at our top 10 CBD dog treats to make your choice simple.
CBD capsules for dogs – CBD oil can be put inside digestible capsules that you can hide in your dog's food. You can go through our reviews regarding CBD oil capsules for dogs.
CBD tinctures for dogs – This is the purest form of CBD oil and you can administer it under the tongue of your dog. This will be readily absorbed into the bloodstream. Tinctures allow for exact dosage and this is one of its benefits. Also, CBD tinctures work faster.
If you require more information regarding the different types of CBD products that can be administered to your dog, peruse our list of top 10 CBD oil products for dogs. You will also find detailed reviews to help you with your choice.
Recommended Dosage
If you have decided to use the best CBD oil for your dog's anxiety, ensure that you are administering the right dosage. The following factors need to be considered to ascertain the right dosage:
Size & weight of your dog –

Dosage information on CBD oils are generally based on the weight and size of a dog. Weight is an important consideration as this affects the chemical's absorption. As a rule of thumb, larger dogs need more oil. However, always remember to read the information before giving it to your dog.

CBD product –

The CBD dosage depends on the product that you are using. CBD concentration is calculated in milligrams. You have to calculate the number of milligrams and multiply it by your dog's weight. You can also refer to the manufacturer's instructions.
CBD oil for dog anxiety is considered safe, but you must do your research. You can find out more about CBD oil products in our review. Also, remember to speak to your vet and read the manufacturing methods, product ingredients and such other important information.
So, if your furry friend is suffering from anxiety, help him or her find some relief with the help of CBD oil.
Choose CBD Gummies for Anxiety now
References
Deabold, Kelly A., et al. "Single-dose pharmacokinetics and preliminary safety assessment with use of CBD-rich hemp nutraceutical in healthy dogs and cats." Animals 9.10 (2019): 832.

McGrath, Stephanie, et al. "A report of adverse effects associated with the administration of cannabidiol in healthy dogs." veterinary medicine 1.2 (2018): 6-8.

Corsetti, Sara, et al. "Cannabis sativa L. may reduce aggressive behaviour towards humans in shelter dogs." Scientific reports 11.1 (2021): 1-10.

Beynen, Anton C. "CBD treats for dogs."

Wedman-St Louis, Betty. "22 Cannabis for Pets." Cannabis as Medicine (2019): 269.

McGrath, Stephanie, et al. "Randomized blinded controlled clinical trial to assess the effect of oral cannabidiol administration in addition to conventional antiepileptic treatment on seizure frequency in dogs with intractable idiopathic epilepsy." Journal of the American Veterinary Medical Association 254.11 (2019): 1301-1308.

Vaughn, Dana, Justyna Kulpa, and Lina Paulionis. "Preliminary investigation of the safety of escalating cannabinoid doses in healthy dogs." Frontiers in veterinary science 7 (2020): 51.
Tags: the best cbd oil, best cbd oil for athletes, cbd day and night face cream, what is broad spectrum cbd, cbd oil patches, best cbd tincture, cbd oil for hemorrhoids, cbd product, cbd edibles in your system, cbd infused lotion