CBD Oil for Dogs
CBD has been gaining more and more popularity every day in several sectors. The initial use of CBD as a medicine for humans has been expanded further and now many benefits of CBD can be related to pet animals like cats, dogs, and horses as well.
CBD for dogs, particularly, has been gaining a lot of attention from pet parents due to its exclusive benefits in calming dogs down, helping with anxiety, and many other day-to-day problems that often go unnoticed. From physical issues like joint pain and bone weakness to more deep-rooted issues like hyper-activity or depression, CBD has produced great results when it comes to helping pet.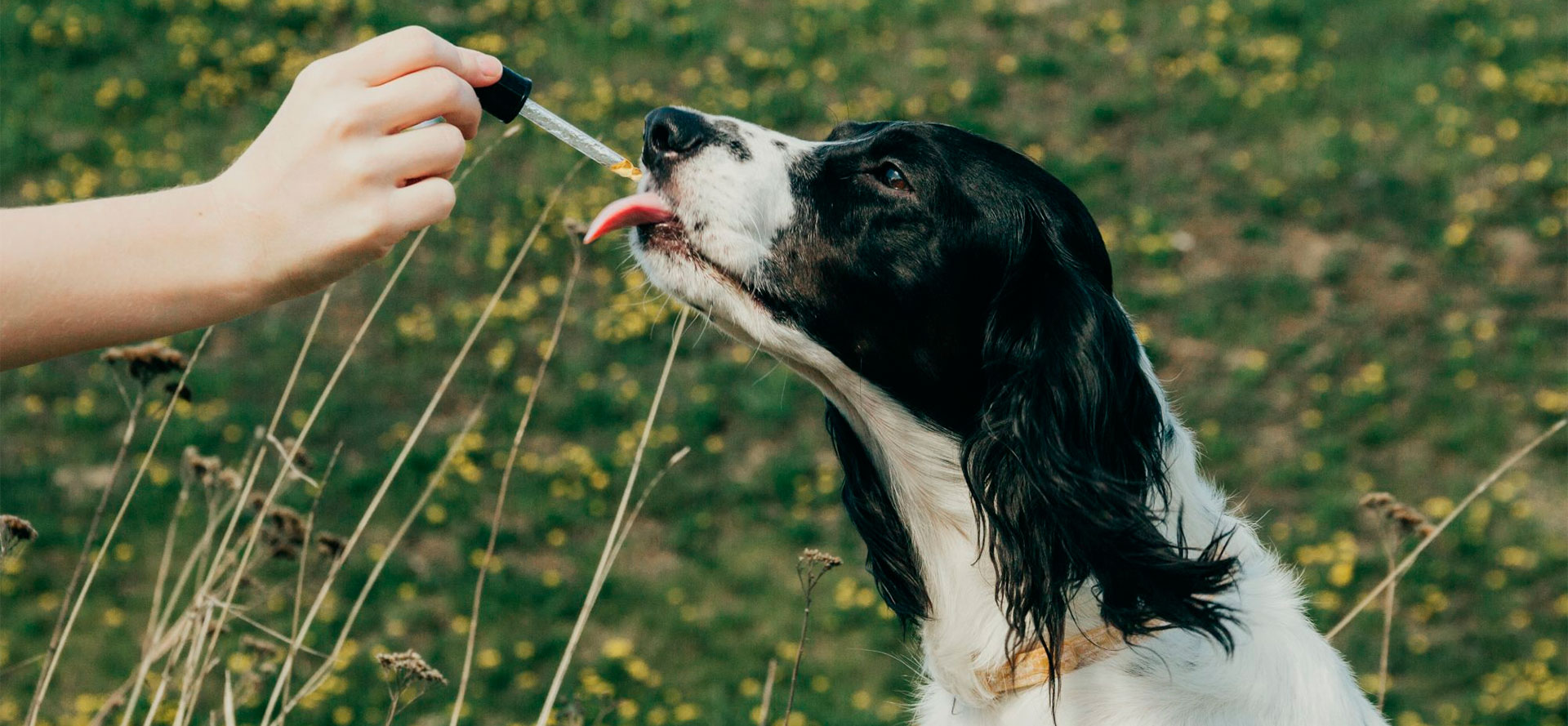 10 Best CBD Oil for Dogs in 2023
Products
Information
Price

Concentration:

100mg, 200mg

Ingredients:

Pharmaceutical grade cannabidiol (cbd), wheat flour, corn gluten meal, poultry by product meal, chicken fat (preserved with mixed tocopherols), wheat bran, choline chloride, beef and bone meal, natural flavor, salt, wheat germ meal

Check Price

Key facts:

With 100mg of full-spectrum CBD

Ingredients:

Vegetable glycerin, propylene glycol, CBD

Check Price

Ingredients:

wheat flour, meat and bone meal, industrial hemp cannabidiol (cbd), sugar, dried poultry by-product digest, cooked bone marrow, beef fat (preserved with tocopherols), salt, corn starch

Calorie content:

metabolizable energy (me), 3330 kcal/kg; 10 kcal/ treat

Nutrition facts:

crude protein min. (15.0%), crude fat min. (7.0%), crude fiber max. (1.5%), moisture max. (29.0%)

Check Price

Sizes:

20-count pack (5mg per treat, 100mg per bag)

Active ingredients:

Phytocannabinoid-rich hemp oil (0.0% thc)

Inactive ingredients:

Cinnamon, coconut oil, garbanzo bean flour, mct oil, molasses, oat bran, oat flour, turmeric, bacon extract

Check Price

Servings:

30 servings per jar

Product Life:

18-month shelf stable

Ingredients:

Acacia Gum, Beef Liver, Brewers Yeast, Calcium Propionate, Calcium Sulfate, Flax Oil, Glycerin, Microcrystalline Cellulose

Check Price

Key facts:

With 550mg of full-spectrum CBD

Ingredients:

Industrial hemp cbd, vegetable glycerin(vg), propylene(pg)

Check Price

Ingredients:

Industrial Hemp CBD, Vegetable Glycerin(VG), Propylene(PG) Artificial Flavor

Check Price

Check Price

Ingredients:

Pharmaceutical grade cannabidiol (cbd), Beef liver, wheat flour, ground wheat, chicken meal, corn syrup, pregelatinized corn starch, poultry fat

Check Price

Ingredients:

Hemp Extract, vegetable glycerin(vg), propylene glycol(pg)

Check Price
View all CBD Oil for Dogs
What Exactly is CBD Oil for Dogs?
There are several kinds of CBD products or several forms of CBD that can be used to administer the required dosage, one of these products is CBD oil. It is one of the most commonly used CBD products as it is one of the easiest ways to intake CBD. Oil is made by extracting CBD and other medicinal compounds from hemp or marijuana plants which are two of the main strains of the cannabis plants used to extract CBD. There are hundreds of different compounds in cannabis plants one of which is THC, the compound that is responsible for initiating psychoactive effects also known as 'getting high'. These products including oil do not contain THC in them.
CBD oil for dogs contains CBD and other cannabinoids found in the cannabis family plants such as flavonoids, and essential oils which help it retain the texture of an oil. Some CBD oil variants also contain compounds known as THC but in negligible amounts only. CBD, in its purest form, is a pure white powder when extracted from the plant and separated from other compounds that requires a binding agent like essential oils to retain other forms. Essential oils present in the plant help it keep that texture. Since CBD oil contains all the essential cannabinoids, the effects stay longer and help the puppies and dogs in getting rid of their ailments.
Types of CBD for Dogs
There are several different types of CBD oil for dogs that you can scroll through before deciding on one variant for your baby. There are several options that you should know about when trying to decide on a CBD oil for dogs. Let us have a look at the most common ones. You can also try and browse through our list of the top recommendations for the best CBD oil for dogs.
CBD Isolate Oil for Dogs
CBD isolate is the purest form of CBD that is known as of now. It is a simple pure white powder that is combined with a binder oil to give it the texture of oil. The typical choices of binder oils include coconut oil as the top contender. Coconut oil is good to be used topically and can be consumed orally as well which means these variants can be used in both ways. Isolated CBD is free of all other compounds found in cannabis plants and is a concentrated form of CBD. It is particularly useful when a huge amount of CBD is supposed to be taken in a significantly lesser amount of time. A concentrated form of CBD shall be used with caution and on prescription from the vet since the dosage per milligram is higher in isolates as compared to other products.
Broad-Spectrum
Broad-spectrum CBD oil for dogs contains all cannabinoids and other components found in the cannabis family plants except for THC. Broad-spectrum CBD oil has been reported as the product that leaves longer-lasting effects upon application as compared to the isolated forms of the product. This makes it perfect to be used in the specs where longer-lasting effects are required for example while treating chronic pain, treating uneasiness due to joint and bone weakness, relieving hyperactivity, etc. The absence of THC means that the chance of getting high is completely eradicated while all the benefits that other compounds of a cannabis plant have been retained.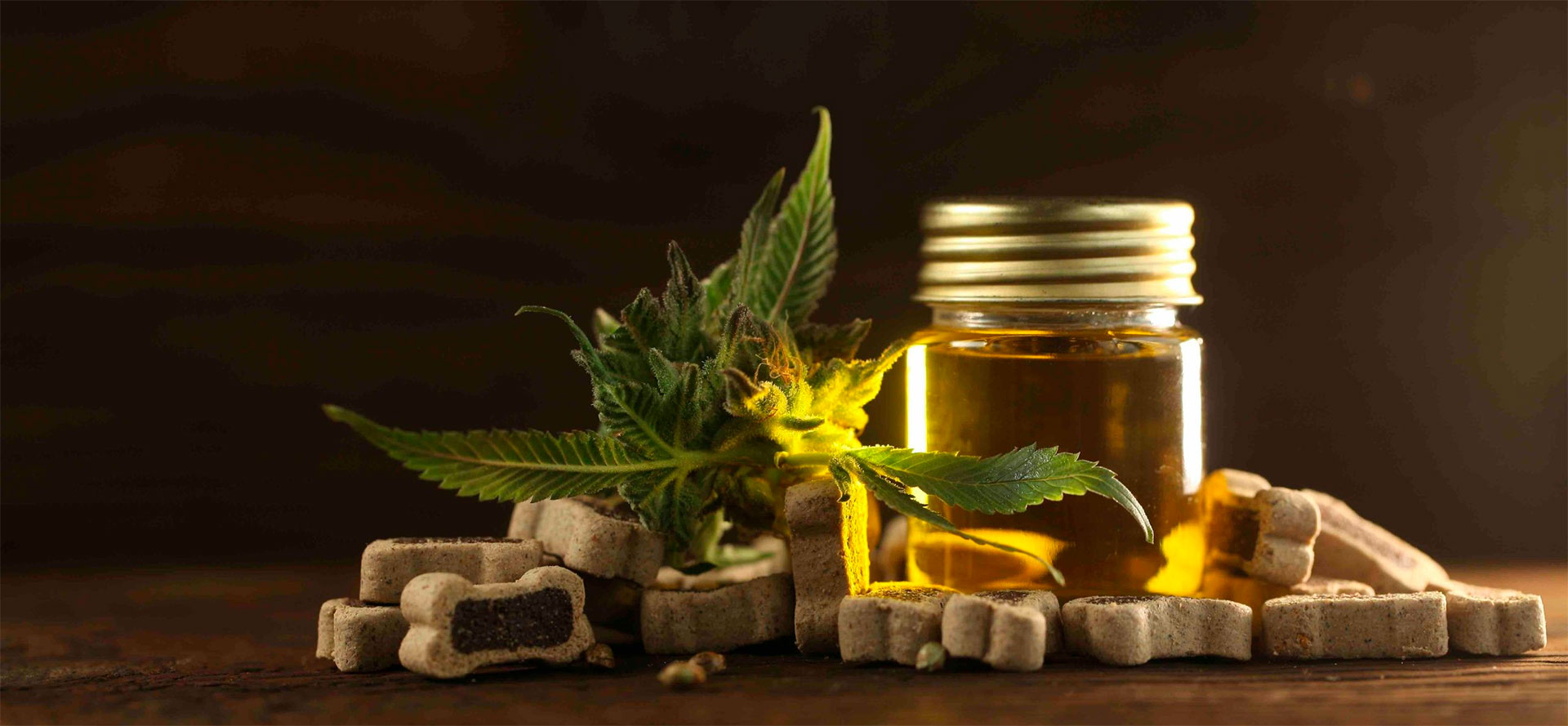 Full-Spectrum CBD Oil for Dog
The CBD oil which contains all compounds found in the cannabis plant is known as full-spectrum CBD oil. The full-spectrum CBD for dogs contains small traces of THC which is actually speculated to have the effects of the rest of the compounds increased and last longer as compared to the isolated variants. Full-spectrum CBD oil is generally made with hemp plants instead of marijuana strains because hemp contains lesser quantities of THC, lesser than 0.03% which significantly lowers the chances of showing any psychoactive effects upon taking the medicine.
Organic CBD Oil
Much like every other organic product, organic CBD products are made with hemp and marijuana plants which have been grown organically while following the rules and regulations laid down by USDA under National Organic Program for organic farming. Organic hemp and marijuana plants are grown without the use of any synthetic fertilizers, weedicides, and other chemicals that are used in inorganic farming to assist crop growth. Organic produce is known to have much better in terms of benefits as compared to inorganic ones.
More choices available
CBD Oil Dog Treats
Dog treats made to induce CBD consumption are treated with CBD oil. CBD treats are a great way to get your dog to take its CBD without any extra fuss and eating tantrums. These CBD treats are pre-infused with CBD oil which means that all you have to do is give your puppy the required amount as per the dosage. It can be a little tricky to keep tabs on the dosage of CBD that you are supposed to administer. So, always keep a close eye on the dosage and the amount of CBD one treat contains.
For Joint Pain and Arthritis
Cannabidiol is very useful when it comes to pain management and treating inflammation in dogs who find mobility an issue that they face on a day-to-day basis. For a dog suffering from arthritis or have a bad hip then CBD can be of huge help in order to provide some relief in its pain. The best way to administer CBD oil to join pain is by applying it directly to the affected areas. Taking it orally can also help big time as CBD will enter the bloodstream quickly and will provide relief. Applying it on the joints can be helpful when combined with a good few minutes long massage as well.
CBD Oil for Dogs Anxiety
Anxiety is an issue that is faced by not only human beings but also by dogs. It may still be an alien concept for a lot of people with the problem persists and only grows bigger with time. There can be several things that make your dog anxious for example thunderstorms, firecrackers, meeting strangers, and new people, or traveling. While therapy is a seldom chosen option to help anxious dogs, CBD can be used with great ease in order to provide some relief. CBD has shown very promising results in calming anxious dogs and help them lead happier lives. CBD reacts with the endocannabinoid system of the body of the dogs and helps them stay calm by offering a soothing effect on the mind.
Dosage for Dog Seizures
Epilepsy or seizures is another ailment that affects many dogs out there and many pet parents can testify to that. CBD helps in achieving healthy homeostasis, which translates to a healthy internal environment, that is required in the body to maintain the right balance. CBD shows positive effects on the endocannabinoid system of the dogs and helps in achieving an ideal balance of homeostasis using the phytocannabinoids found in the cannabis plants. CBD reacts with both CB1 and CB2 receptors found in the endocannabinoid system of the brain. CB1 receptors are responsible for the brain, nervous system, and organs as well as their function while the CB2 receptors are responsible for the immune system. CBD helps in regulating both these receptors and hence helping dogs with seizures and epilepsy.
CBD Oil for Hyper Dogs
It is no news that dogs are hyper. However, some are more hyperactive than others or more than the usual amount which can cause a lot of problems not only with the family but also neighbors at times. While some people prefer to get their pets neutered, some would rather not do it. CBD proves to be a rather creative solution for helping hyper dogs settle down without having them neutered keeping their spirit alive. It also helps them sleep more soundly at night and hence be helps them stay in a good mood throughout the day, kinder and more playful with family and strangers alike. Hyper dogs also settle down easily after playtime is over when taking CBD regularly. Broad-spectrum and isolate CBD oil for dogs is the ideal choice for calming down hyper dogs. Full-spectrum CBD oil meant for dogs is also a good option as long as the amount of THC in the mixture is almost negligible.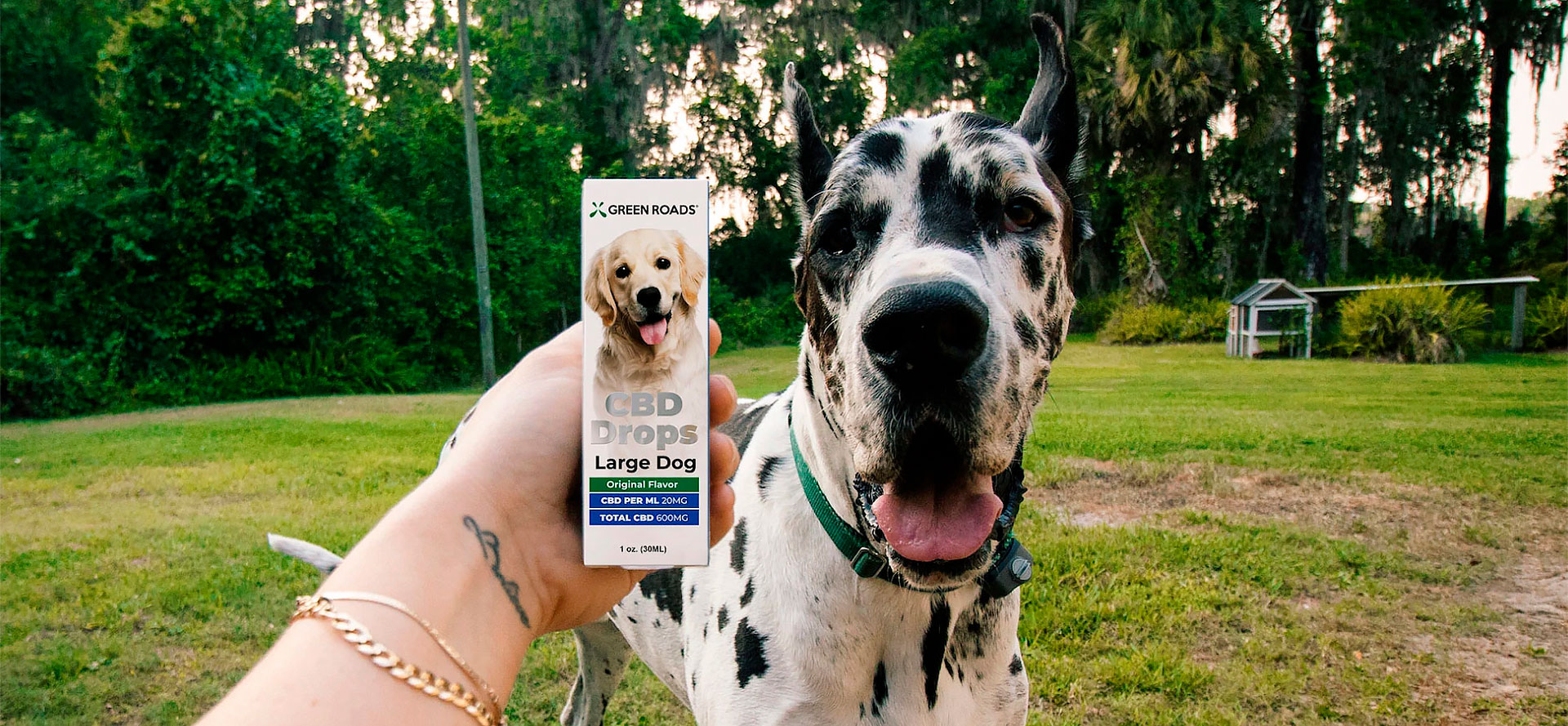 Conclusion: Tips to Administer CBD for Dogs
It is no secret that making your dog take medicine or making him wear a jacket takes more energy than working out for one straight would. This also means that making it take CBD could turn out to be a difficult task too. But unlike many other forms of CBD such as pills, there are several ways dogs can intake CBD depending on the ailments that are to be tackled. You can try the following ways to have your dog baby take CBD.
Use A Dropper:

The simplest way to administer CBD oil is oral. Just bring a dropper, fill it with the right amount of the dosage that is required for the ailment. The right way to take CBD oil orally is by putting it under the tongue which means that it will go straight to the bloodstream and show effects very quickly. But there is a huge chance that your dog will not let you put the drops under its tongue. In that case, the next best option is to aim the drops towards the back of its tongue so that it does not try and spit it out. The ideal place to put the oil is a little forward from the throat so that it does not gag either. The taste can be a bit off-putting so keep its favorite treat ready for after taking the oil, easy-peasy.

Squirt the Oil on a Treat: There are several kinds of dog treats that you can find for dogs in different textures too. Take a soft, absorbent treat and squirt a few drops on top of it. Simply have your dog eat the treat. This could be the easiest way to administer CBD with dogs and can only be used in the case of CBD oils and tinctures. There are several options for treats that you can explore to find the right kind of treats to have your dog baby take CBD with ease.
Use Food:

Treats are an occasional appearance in the day-to-day events of a household with pet dogs. A regular of CBD may mean that you will have to give your dog many treats in a day. A simple solution to this problem is that you mix CBD drops in the food of your puppy. Wet foods or semi-wet foods are the best way to make dogs take CBD without them realizing it. Things like chicken, sardines, mashed potatoes, or yogurt are perfect for infusing with CBD. Taking CBD with main meals can also help regulate the dosage easily.

Apply Topically:

One of the most basic ways to apply CBD oil is to use it topically on the affected areas. This particular way of administering CBD oil is useful when taking it for treating ailments like joint pain. Topically applied CBD oil takes a bit more time to get consumed in the bloodstream than other ways like orally taking it. So, if time and rate of consumption are not an issue then the topical application can be the best, hustle-free way to do it.
Choose CBD Oil for Dogs now
Tags: the best cbd oil, cbd bomb, cbd products, cbd dosage for adhd, full spectrum cbd edibles, cbd infused tampons, cbd for horses, cbd oil for fibromyalgia, is pet cbd addictive, cbd oil new york